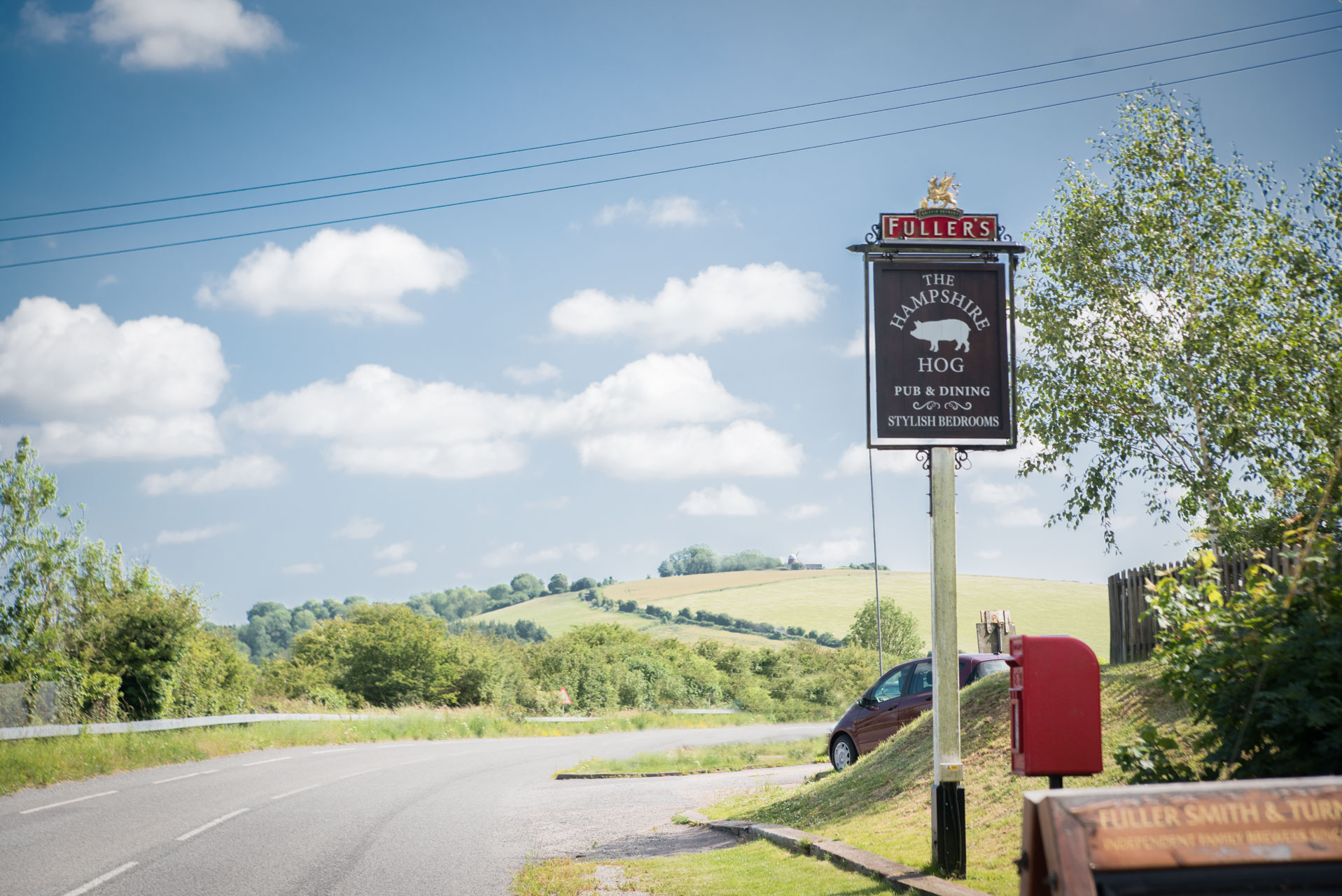 Well connected thanks to the nearby A3, The Hampshire Hog is a great place to stay if you want to explore the local area. We're located on the door of Butser Hill and Queen Elizabeth Country Park, and just 10 minutes drive from everything that Portsmouth has to offer - Gunwharf Quays, Spinnaker Towers, The Historic Dockyards and the Gateway to the Isle of Wight.
Nearby Petersfield has some charming old styled shops and occasional French markets, while Arundel Castle and historic Chichester are all easily reachable by car.
Queen Elizabeth Country Park Sign
Walkers:
Located minutes away from the wonderful Queen Elizabeth country park, and with the incredible walking scenes of the South Downs on our doorstep, we provide the perfect location to fully embrace the best of the Hampshire countryside. You could also take a visit down to Portsdown Hill where you can walk along the chalk ridge with stunning views over the city of Portsmouth, the harbours, and the Isle of Wight.
If you're not sure where you want to walk, why not look at iFootpath who have kindly created a circular walk from the pub to help you work up that thirst/appetite. You can view the walk details via any of the routes below.
Hotel near the South Downs Way
Cyclists:
Equipped with a dedicated cycle parking area and bike repair station, the Hampshire Hog provides the perfect place to stop and refuel during a fun day out cycling along the South Downs trails in the beautiful Hampshire countryside. And if you're heading further afield, don't worry – we can safely lock and store your bikes away overnight.
Dedicated cycle parking
Secure overnight storage
Repair station
Somewhere to re-fuel
Packed lunch – by request
So many amazing cycling trails to choose from
Bikers:
Situated in the beautiful South Downs among some of the best biking roads in England, The Hampshire Hog is the perfect place to start a ride, end a ride or just have a well-earned, mid-ride break.
Large off road parking
Bike parking visible from pub & garden
Hotel rooms with views of car park
CCTV coverage in whole car park
20 minutes from Portsmouth Ferry terminal
Perfect riding distance from well knows "Bike stops" like: Loomies Bike Café, Portsdown Hill & Whiteways (Berry Hill)
Vintage Cars­:
Surrounded by the breath-taking views of the South Downs and the windy roads of the Hampshire countryside, you can sit back and enjoy the ride with us being the perfect overnight stop or a great pit stop for something to eat and drink.
Large off road car park
CCTV coverage in whole car park
Hotel rooms with views of the car park
Beautiful scenery
Windy roads of Hampshire
Ferry:
Located just 20 minutes away from Portsmouth ferry port, you can avoid the hustle and bustle of busy Portsmouth and relax in the peaceful outskirts. With beautiful bed and breakfast rooms we made the ideal overnight stop to rest your head as you go on your travels.
20 minutes to Portsmouth Ferry port
Beautiful bed and breakfast rooms for an overnight stop
Stay in a real country pub with great beer and food
Free Wi-fi
Large off road car park
Pub Garden with beautiful views of the Southdown's
Pet friendly rooms
Historic / Fun things:
If you're looking for something to do during your stay, Hampshire is rich in history and we have several places located just a short drive away that may interest you! See below a list of places that you will not regret visiting!
If you want an experience why not make a visit to the incredible Hambledon vineyard, once you try their wine on our bar, we guarantee you'll want to make a visit!
Dock yards in Portsmouth https://www.historicdockyard.co.uk/
Butser Ancient Farm http://www.butserancientfarm.co.uk/
Portsdown Hill https://www.visitportsmouth.co.uk/things-to-do/portsdown-hill-p276691
Portchester Castle http://www.english-heritage.org.uk/visit/places/portchester-castle/
Charles Dickens Birth place http://charlesdickensbirthplace.co.uk/
Winchester Cathedral, largest Cathedral in Europe http://www.winchester-cathedral.org.uk/
Chichester Cathedral https://www.chichestercathedral.org.uk/
Chichester Harbour http://www.westsussex.info/chichester-harbour.shtml
West Witterings beach http://www.westwitteringbeach.co.uk/
Hayling Island – sailing, wind surfing was invented on hayling https://www.visit-hampshire.co.uk/explore/towns/hayling-island
Beaulieu https://www.beaulieu.co.uk/
Hambledon vineyard https://www.hambledonvineyard.co.uk/
Portsmouth shopping outlet https://gunwharf-quays.com/